Kim jest Arvid Pekon? / Who Is Arvid Pekon?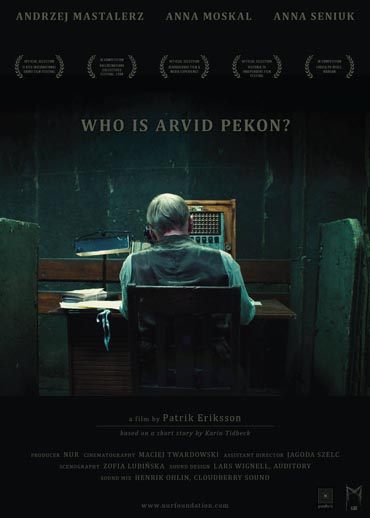 Auditory
Sound Post Studio – Auditory
Dialogue Editing – Lars Wignell
Sound Editing – Lars Wignell, Gustaf Berger
Sound Editing Assistant – Marcus Lilja
Foley – Lars Wignell
Premix – Gustaf Berger

Film Info
Genre – Short – Drama
Lenght – 14 min
Year – 2013
Director – Patrik Eriksson
Producer – Lukasz Długołęcki
Production company – Polish National Film School in Lodz
Short Synopsis
Listening, approving, connecting. Deep beneath the city all communication is patched through the switchboard. Operator Arvid Pekon gets a disturbing request and starts playing a dangerous game. With reality falling apart, he soon finds himself questioning his very existence Who is Arvid Pekon? is a tale of identity and madness, set in the remnants of a distant 20th century.
Websites